Columbus Corporate Photography
Columbus Photo Group is a team of experts headed by Peter Bruce, who has more than 30 years of experience with business clients such as
Fairmont Hotel Group, KeyBank, MIT, NYC Medical School, Ritz Carlton, MOCA Columbus, Olympus Cameras, SEC Institute, Melbourne Symphony Orchestra,  Formula 1, FIT Technologies, Skylight Financial, NAE/WAN Insurance, Dilan Assoc, Lipedema Foundation, W&S Financial Group, RE/Max, Howard Hanna, Rockport Financial, AZC Assoc, Australian Broadcasting Corp, Computer Museum, Dolan Law Firm, NCPG Foundation, National Turf Assoc, Juvenile Diabetes Assoc, AAL Group, Greater Cleveland Pediatrics, Step 2 Co, CIFF and more.
Peter also has a background with other types of photography  and has photographed stars including
Viggo Mortensen, Elton John, Dustin Hoffman, and many others.
Columbus Photo Group can assist you in all of your Columbus corporate photography and video needs. We specialize in location photography in offices, businesses, and industrial environments, and are also able to set up a mobile studio in virtually any location, or use our fully-equipped, modern, centrally-located studio to bring your company to life. We can provide photographic and video services to capture, enhance, and archive small and large scale events, benefits and galas, award ceremonies, conventions, political events, office parties and celebrations, and conventions.
We are also a trusted resource for video and photographs used to illustrate and enhance advertising, promotions, publications, and annual reports. Need professional head shots for your executives, staff, and Board? We do that, too, and do it well. Whether you seek coverage of your gala event, shareholders' meeting, or celebration, or are looking for photographs to reflect the talent and professionalism of your staff, Columbus Photo Group will exceed your expectations.
All Columbus photo Group team members are passport-ready and able to travel nationally or internationally for any assignment. We use the most current Nikon equipment, regularly serviced, so that all you need to do is enjoy your event and experience while we capture it.
We encourage you to call Columbus Photo Group today for your Columbus corporate photography, so that we can customize the best experience for you to achieve your goals.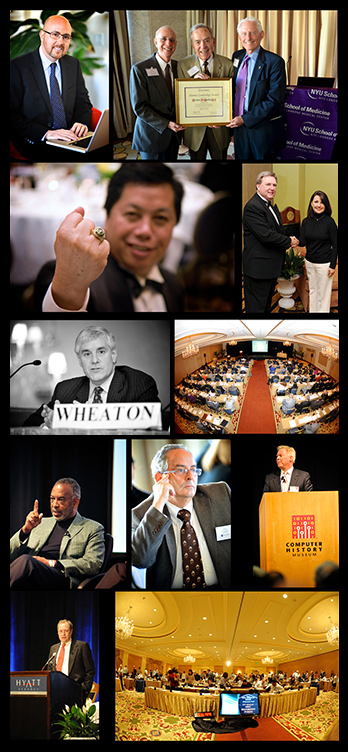 Corporate Photography Testimonials
Peter Bruce has worked as a photographer with the Ritz Carlton for many years photographing both weddings and corporate events. We have always found him and his staff to be very professional, friendly and creative. I would highly recommend Columbus Photo Group to anyone.
—Joan McKey, Ritz Carlton
A million thanks for the wonderful photographs that you took during our Agent Meeting at The Ritz Carlton here in Columbus! Our annual Agent Meeting is the crown jewel of our event portfolio and the documentation of our General Session, Activities, Speakers, and Awards Gala is paramount. I was thrilled with the final product that was sent to me within five days of our event. I appreciate the time and effort that you put in to meet our extremely tight deadline. Working with Columbus Photo Group was a pleasure from start to finish. The pre-planning meetings that we had really set us up for a smooth 4-day event in which every request was exceeded. I was very impressed by the hard work and energy from both you and your assistant photographer from 8:00 AM until 11:00 PM every day! I would also like to thank you for how enjoyable our interactions and communications have been throughout the whole process.
I look forward to working with you again and will absolutely recommend you to my peers in the planning community. It is a great feeling to find a photography vendor whose vision matches that of our Executive Team. Thank you sincerely for everything.
—Amy Young, Corporate event manager, NAE/WAN Insurance
I love working with Peter from Columbus Photo Group. As a realtor, I need someone who knows what photos will draw buyers in which he does. He also took a few head shots which I love! He's easy to work with and extremely professional. I highly recommend him and his team!
—Katy Boscia, RE/MAX Realtor
We were hosting a business dinner at the Intercontinental hotel Cleveland and wanted to work with a local photographer to take pictures of the event. Luckily, we found Columbus Photo Group through a Google search and they are truly a pleasure to work with! Peter was very accommodating in terms of working around our uncertain schedule and Lexi is a fantastic photographer. She took portraits and group shots and the photos turned out great – we are thrilled with the results! We really enjoyed working with Lexi. I highly recommend Peter and Lexi and look forward to working with them again.
—Kathy Doherty, Marketing and Communications Manager,
Lipedema Foundation
Our 25th Midyear SEC Reporting Forum was a key event for The SEC Institute and we could not be happier with Peter's work. The photographs were fantastic, clearly depicting the energy and dynamics of the conference from all perspectives—the audience, the speakers, and the hotel. He's a top professional and the quality of his work was outstanding. Thank you, Peter!
— Dorys R. Saxlehner, CMP, SEC Institute
I was sent from the Midwest to do a high-end event at a well-known five star hotel San Francisco and photography at the event was one of the top priority items. I asked a colleague for a referral local to Northeast Ohio since I was not using a DMC. They referred me to Columbus Photo Group, who ended up not only meeting my expectations but far exceeding them with their ability to relate to the diverse group and the photography needs I had for different aspects of the entire event. The photographer was early, had great ideas for photographing the larger group, and did individual photos of award recipients – always doing so without interfering with the actual presentation and without any glitches in cameras or equipment. When we returned to San Francisco the following year, I immediately contacted Cleveland Photo Group again to take care of our photography needs. They did a great job for our event!
— Wanda Bowling, Director Corporate Travel,
Convention & Meeting Planning, W&S Financial Group